Translation by Erin Rieser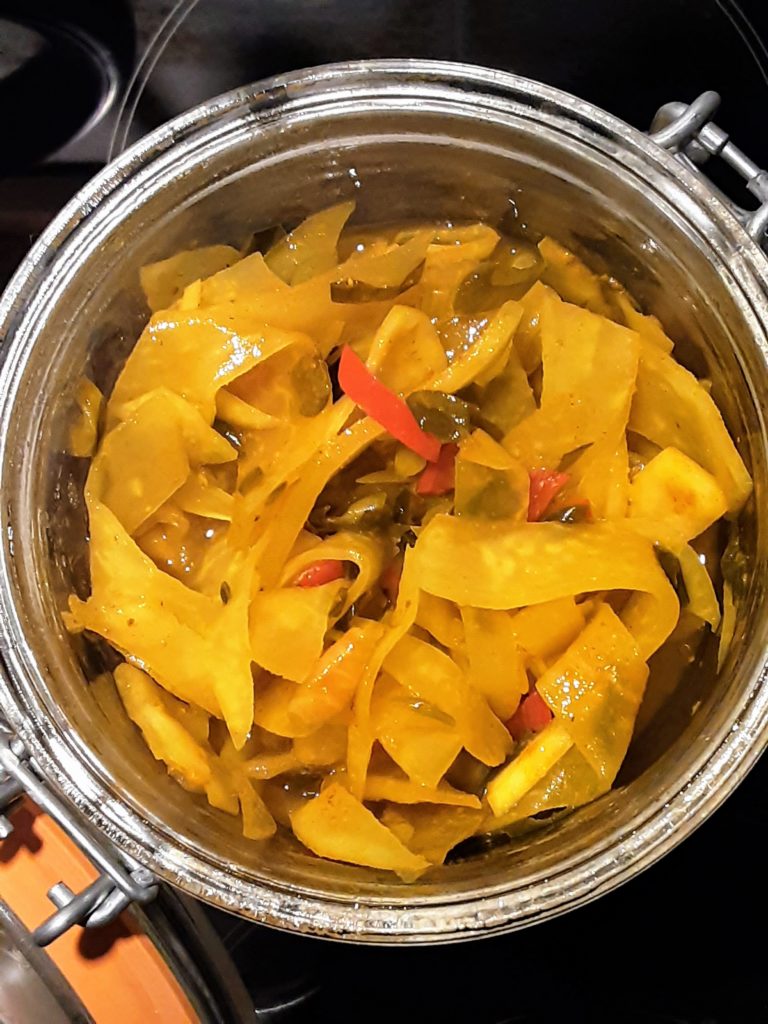 In early February I noticed very large kohlrabis at the weekly organic market. The sign read "Superschmelz," "super melt". Marvelous: little peeling for more kohlrabi, which is actually tender and not woody. The impressive specimens were first placed onto the vegetable dealer's scale and then into my cloth bag.
The two thick kohlrabis were then joined by spring onions and a red chili pepper. That was it. Combined with curry, these ingredients resulted in an extremely delicious wild ferment. Easy and therefore wonderfully suitable for beginners.
Curry Kohlrabi
650 g kohlrabi, cleaned (=23 ounces / 1.4 lbs)
3 spring onions
1 large red chili (mild)
3/4 Tbsp sweet curry powder
13 g unrefined natural rock salt (=0.46 ounces)
a ferment weight
a 1-Liter flip-top jar
Peel the kohlrabi, cut in half, and then cut each half into slices 1 cm thick. Continue by cutting not-too-thin strips from these slices. Clean the spring onions and cut them diagonally into thin strips. Clean and core the chilli pepper and cut into thin strips. In a large bowl, combine the vegetables with the salt (13 g amounts to 2% of 650 g kohlrabi) and the curry powder and mix well.
Let the vegetables stand for a while so that they start sweating and a brine is formed. Once sufficient brine has formed, stuff the curry kohlrabi mix into the flip-top jar. Make sure that no air bubbles are trapped. Finally, place the weight on the vegetables. If the vegetables are not completely submerged under the brine, you can use a 2% brine and fill the glass so that the weight is also under the brine. "Under the brine is fine." Everything must always be under the brine.
I let this wild ferment work at room temperature for four weeks. After one night in the refrigerator to cool, I tasted it and was immediately convinced. Sometimes recipes are a success on the first attempt. The kohlrabi has a certain crispness and can be combined extremely well with basmati rice and other fermented vegetables in a bowl of "rice and pickles". A perfect meal with soft-boiled eggs or cold roast leftovers.
You can find the respective step-by-step instructions by clicking on any of the photos below.